Custom Diets:
Diets formulated according to the research requirements of the customer. Bio-Serv can reproduce a previously published formulation, modify our existing formulas or create newformulas based on customer specifications.
Customer Supplied Additive:
Diets formulated to include test compounds supplied by the customer such as medications, nutraceuticals, food ingredients and test articles to allow for convenient dosing of compounds.
Grain-Based Diets:
Diets formulated with agricultural products such as whole grains, high gluten meals and livestock feed ingredients. Ingredients in grain-based diets have complex nutrient compositions.
Purified Diets:
Diets that are formulated with refined ingredients such that each ingredient contributes primarily one nutrient allowing for precise manipulation and customization of the diet's nutrient composition.
Standard Diets:
Routinely manufactured diets that have been published in the literature to meet the research needs of experimental protocols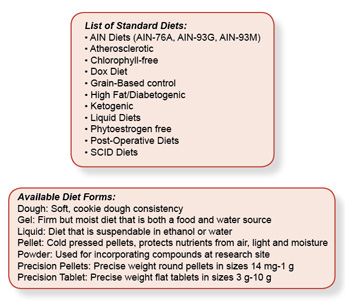 Please contact us with your dietary nutritional and research specifications. We welcome the opportunity to work with you.
Nutritional:
ph: 800-996-9908 ext. 112 email: jlecker@bio-serv.com
Veterinary: Karen Froberg-Fejko, LATg, VMD
ph: 800-996-9908 ext. 135 email: kfroberg@bio-serv.com